The Monachs is a beautifully 5-Star luxury villa, designed for enjoyable relaxation, you will experience the comfort of home, a sense of space and well-being that comes from quality surroundings.
The architect-designed house was completed in 2005. Its unique design affords a feeling of timelessness. Each superior spacious bedroom has excellent en-suit facilities and the public rooms are very well appointed using a combination of antique and modern furniture along with original paintings adorning the walls.
After a wonderful breakfast, including a choice of fresh fish when available (Marie is an excellent cook) you can enjoy the magnificent views from the spacious balcony before setting out to explore the many beautiful and interesting sites of Islay, look up old friends or make new ones. You can fish in the stunning lochs, which are teeming with wild brown trout, play golf on one of Scotland's top links courses, cycle on the quiet single track roads, (we have two well equipped bikes available), or just relax on the balcony or patio, where you may spot our neighbours, such as the Hen Harriers, Choughs, Red and Roe deer, or the Brown Hare.
Ronnie and Marie have been greeting guests from all over the world for many years. Their great sense of hospitality and welcome will ensures that your stay is delightful.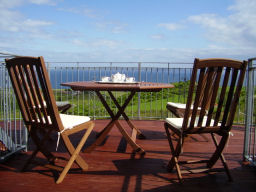 The balcony offers spectacular sea views.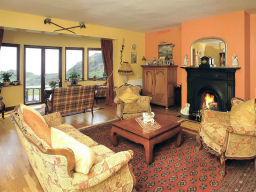 The luxuriously appointed guest lounge.
The Monachs rated "excellent" by 13 travellers